Twin Cities Tours Sightseeing Themes
Ancient History
European settlement began in this area in the 1700s. The Louisiana Purchase of 1803 expanded US territory immensely (green area below).
Fort Snelling was built in 1825 at the confluence of the Mississippi and Minnesota rivers, near today's airport, at the eastern edge of the newly-claimed expanse. The fort offered the US government a place from which it could begin exploration of the "vast, immeasurable" new territory. The birth of the Mississippi River cities of Minneapolis and St. Paul soon followed.
So what was it like here before this profound shift? On this tour we visit and learn about ancient sites and area cultures like the Dakota and Ojibway.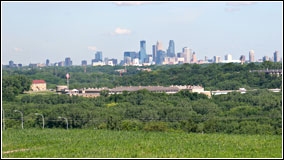 Left – A view from Oheyawahi (Hill Much Visited in the Dakota language). It was an important gathering place near the confluence of the Mississippi and Minnesota rivers. Fort Snelling is in the foreground, Minneapolis in the distance. (Photo from National Park Service.)
Left – Sacred Dish by Duane "Dewey" Goodwin, Ojibway. Mounds Park, Saint Paul